Missing teeth or a prominent gap in between can feel awkward. You may feel quite embarrassed in public while smiling. Additionally, people with rotten, stained, or gapped teeth also lack the confidence to talk or smile in public due to their imperfect teeth. This is where dental veneers come in and can act as a brilliant corrective cosmetic dental option to bring beauty and strength to your deteriorated/damaged teeth.
A dental veneer, also referred to as a laminate, is a custom-designed fine shell of composite resin or ceramic porcelain that fits over the front surface of a tooth to restore its size, shape, or color. They are used to correct imperfections in teeth, such as cracks, stains, or chips. 
It is also a practical option for aging patients with worn dentition. tailored to exactly match the shape and size of your tooth or teeth in question. Veneers are also given a color that exactly matches the rest of your existing teeth. A lab technician typically prepares its shape, shade, and size.
Unlike other restorative and cosmetic dental procedures like Dental Implants, veneers do not require removing the damaged tooth or inserting metal posts for anchorage. Veneers work with the existing tooth and are simply bonded to the front of your teeth. It's an entirely tooth-borne procedure, so no adhesives or drilling is required.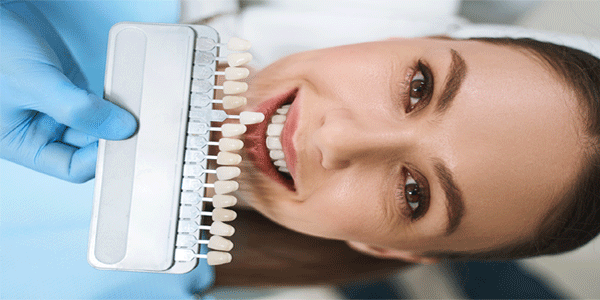 Getting A Right Veneer Type Gives Excellent Result – 
There are a variety of veneer types available in the market today. However, porcelain and composite are the two most common types.
Porcelain veneers- They are small and have wafer-thin pieces of porcelain.
It lays over the teeth's surface, transforming the misshapen, chipped, crooked, stained, or badly worn dentition into a brand new, straight, radiant smile. This process is not very cumbersome or technical. 
After a complete evaluation, the Cosmetic Dentistry expert will take an impression of your teeth and then send it to a technician in a lab to have the veneer fabricated. The most significant advantage of applying a porcelain veneer is that it provides patients with bright and ordinary-looking smiles quickly and without any pain.
Composite resin- It is a different material that is used for making a cosmetic veneer. It will provide the same color as that of your natural teeth. It does not involve taking a patient's teeth impressions and is not made by a lab technician. 
In this process, the dentist shaves the tooth enamel and then applies the resin material to the surface. These veneers can be easily repaired. They are thicker compared to porcelain ones and generally less expensive than their porcelain counterparts.
Veneers are fragile until they are bonded to the teeth. Once effectively bonded, they become as strong as or even more robust than the natural, healthy teeth. The wafer slim veneers are significantly more robust and never or, in a rare case, become broken or chipped. With firmly installed surfaces, you can perform all your daily activities with ease and also flash your beautiful smile. 
Besides the material type that veneers are made from, the overall cost of veneers also depends on the country where you live, the quality of the laboratory, and the skill level of the technician who will fabricate the veneers, and the qualification.
Reasons To Opt for it
One of the key reasons people opt this is that they come with a long lifespan. Dental treatment procedures like tooth whitening are only capable of making a short-term difference to the teeth's appearance. 
Therefore, it is a must to repeat that process regularly to experience improvement. The best thing is that they don't compromise on tooth or gum health. They help prolong the life of a tooth by offering a much-required protection layer. They are non-invasive and painless.
Issues that Can Be Fixed with this;
Discolored teeth

Broken or chipped teeth

Gaps between teeth

Worn-down teeth

Irregular, unevenly shaped, or misaligned teeth
Advantages that people love about it;
Porcelain veneers are resistant to stain 

The tooth gets a natural appearance 

Pale teeth can be made to appear whiter

Porcelain is considered good

Veneers are a more aesthetic and more robust alternative to other options
How It Can Be Applied?
You will have to visit your dentist ideally thrice for this procedure. In the first sitting, you can discuss every detail about this procedure. Then it will be time for making the veneers, and lastly for applying them. Before the veneer experts prepare the teeth and make veneers for them, you will have to explain the kind of result you want to achieve. 
He will examine your teeth during your first appointment and determine if veneers are suitable for you. The dental professional might make impressions of your teeth and mouth and might also take dental X-rays.
 He will probably remove about 1/2 millimeter of enamel from the surface of your tooth to prepare it for a veneer. Before the enamel is trimmed off, he will decide and even ask if you want a local anesthesia. 
Here, the area will be numbed so that you do not feel any pain or discomfort. After this, an exact size of your veneer will be taken. The professional will send out the model to a dental laboratory, where it will be used to get the final outcome.
Before permanently bonding it to your tooth, he will check if it fits appropriately. When it comes to color, it will be matched by placing it temporarily. To ensure a proper fit, he might remove and trim it a few times. He will then clean, polish, and etch your tooth to roughen it, so the bonding process is vital.
Special cement is applied to the veneer before placing it on your tooth. After proper positioning, a special light beam will be applied to it, activating the chemicals in the cement as a result of which it will harden quickly.
Finally, excess cement will be removed; your bite will be evaluated, and any final adjustments to your veneer will be made as necessary. For best results after this procedure, you should connect with the Best Dentist in Dallas. Our professionals have rich industry experience of providing excellent dental care services.