Pinnacle Dental – Your Trusted Family Dental Care Provider in Plano
Pinnacle Dental believes in creating healthy smiles that last a lifetime. Our dedicated team of experienced dental professionals is committed to providing you and your family with the highest quality of dental care in a comfortable environment.
Our experienced Plano Family Dentistry provider, Dr. Steve Jang, has the expertise to cure children's and adults' oral and dental health problems. They help the families by explaining dental procedures, providing written instructions for post-treatment care, and dental hygiene tips for maintaining oral health at home.
Comprehensive Dental Services for Family Care
Comprehensive dental services for families encompass a range of family dental treatments in Plano, including regular check-ups, cleanings, fillings, crowns, braces, and more. 
We provide family dentistry services that offer convenient oral care for all family members. The benefits include check-ups, cleanings, dental hygiene education, and age-specific treatments, fostering a lifetime of healthy smiles.
Common Plano Family Dentistry Services for Your Dental Health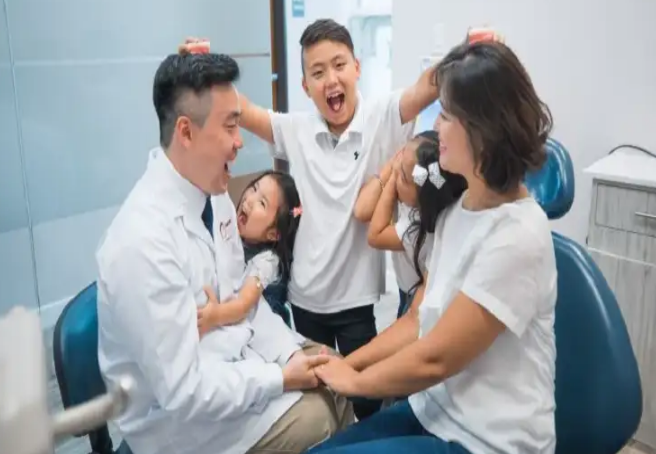 In Plano, family dentistry services are designed to address children and adults' diverse oral care needs, all conveniently offered under one roof. 
Plano Family Dentistry ensures that each family member receives personalized and effective care, fostering healthy smiles for years. Our services include but are not limited to:
Cosmetic Dentistry:

Transform your smile with teeth whitening, veneers, and makeovers.

Restorative Dentistry:

Regain your oral health and confidence through treatments like dental implants, crowns, and bridges.

Pediatric Dentistry:

Ensure your child's dental health from an early age with our gentle and caring pediatric dental care.

Orthodontics:

Straighten your teeth discreetly with Invisalign for both teens and adults.

Emergency Dental Care:

We're here for you in dental emergencies, providing timely and effective care when you need it the most.

Preventive Care:

Keep your smile healthy with regular check-ups, cleanings, and personalized preventative plans

.
Child's First Dental Visit: Important Considerations
During your child's first dental visit, a few crucial considerations can help make the experience of meeting with a dentist as smooth and positive as possible.
First, choosing the right time for the appointment can play a significant role. Opt for a time when your child is well-rested and likely to be calm, as this can contribute to a more relaxed visit.

Secondly, it's essential to maintain a positive and encouraging attitude when discussing the dental visit with your child. Keep the language simple and upbeat, avoiding any scary or negative terminology. 

Lastly, consider bringing a comfort item, such as a favorite toy or blanket, to help your child feel at ease in an unfamiliar environment. 
By addressing these considerations, you can set the stage for your child's positive and successful first dental visit. Our outstanding Plano family dental specialists suggest various tips that will prevent a child's teeth from being damaged.
Looking for a Plano Family Dentist? Contact Dr. Steve Jang today!
Regarding your family's oral health, trust the best dentist in Plano. Pinnacle Dental is committed to excellence and offers comprehensive services, from routine check-ups to advanced treatments, ensuring your family's smiles shine brightly at every stage of life.
Schedule an appointment today by calling 972-801-2788. for exceptional Family dental care in Plano that prioritizes your family's comfort, health, and confidence.

Frequently Asked Questions About Plano Family Dentistry