Teeth whitening is the best option to explore if you want to improve your smile. We use the best in-office teeth whitening treatment to give you that pearl while smiling. Pinnacle dental is pleased to provide you with various whitening alternatives to meet your demands and give you a noticeably brighter smile.
Our experienced dentists provide Plano teeth whitening treatment to give you the confidence to flash your dazzling smile.
Get Pearl White Finish With Zoom Teeth Whitening in Plano
You can also choose to brush regularly after eating. It will prevent any stains and will also remove the risk of any cavities and yellowing of the teeth. Dentists nowadays provide an advanced method of teeth whitening in Plano when the yellowing of teeth has happened.
White teeth give you the confidence to smile and attract eyeballs towards you. However, without proper maintenance, the shine and color of teeth will surely lose out. Furthermore, with the consumption of regular alcohol or smoking, the teeth can get stains. Therefore, you need to whiten your teeth by choosing the proper treatment.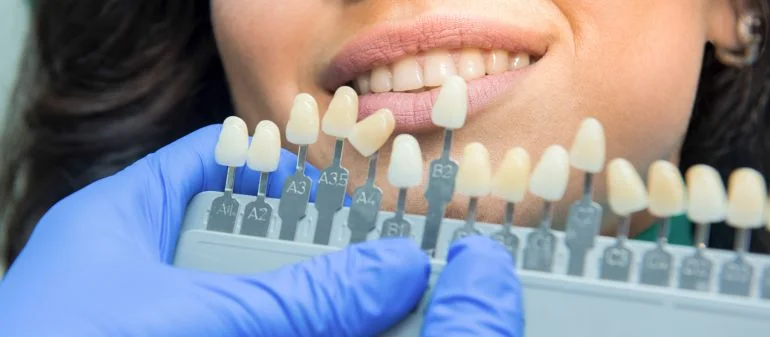 The Procedure of Laser Teeth Whitening in Plano TX
The Plano teeth whitening Treatment is new and has been providing great results. It is known to offer faster results than the traditional whitening method. It is said that you can get white teeth in just 1 hour or so.
To start with the teeth whitening procedure, the dentist first examines your dental structure. The laser teeth whitening in Plano cannot be done with any kind of damage to your mouth. If there is any damage, the dentist first cures it and then proceeds with the process.
The Plano dentist will put the zoom gel on the teeth and then apply the laser light. This heats the gel that breaks down the stain. The same method is repeated a few times till the results are achieved. After the procedure is completed, you need to rinse your mouth properly to remove the excess gel.
Things to consider before Plano Teeth whitening process
You cannot go for the method with crowns or fillings on your teeth as you may feel sensitivity after the treatment. However, this should go away after a day or so. This method can offer much better results than any other present-day options. 
While you are trying to whiten your teeth through the whitening procedure, there are a few points that you should make sure to remember. 
Firstly, you need to treat your whitening method according to your requirements

You need to ensure which shade of white you want

Pre-treatment must be done before teeth whitening treatment

A patient must maintain a regular hygiene routine for your teeth

Teeth must be checked for sensitivity issues

Speak with one of our proficient Dentists to get better oral health
The dentists at Pinnacle Dental clinic in Plano can have a look at your teeth condition and suggest a method. Now You can contact dentist Steve Jang. He will suggest various tips that you can use to maintain whiteness. Call us at (972) 801-2788 for improved oral health care.