Dental Bridges are fixed dental restoration and fill up the gaps. It's created by lost teeth to improve your smile and stop your other teeth from moving.
Bridges can help you avoid permanent tooth misalignment and improper bite caused due to dental gaps. Bridges can restore your smile's functionality, appearance, and health while lasting for many years.
Pinnacle Dental brings the best dental bridges in Plano to help you bring back your sparkling smile. Our expert dentist will help you with personalized dental bridges that are the best option for restoring your beautiful smile.
Dental Bridges Help Patients To Get Pleasant Smile
Do you have lost a few of your teeth or a single tooth in an accident or lost them/because of the lack of proper dental care from your side? If yes, you need to consider the covering of such gaps, as they may cause big difficulties related to eating foods and speaking with others. In this situation, you need to get Dental Bridges in Plano solutions offered by experienced Dentists.
Plano Dental Bridge Dentists Provide The Best Solutions
Dental gaps may seldom lead to a big problem of bad bite and sometimes, cause tilting of one's adjacent tooth towards the dental gap and lead to permanent misalignment of nearby teeth. 
Bridges are considered the best solution to bridge the gap created by missing teeth in our patients. Moreover, based on our vast experience and knowledge in the dentistry sector.
We have found Dental Bridges in Plano useful for individuals in the form of corrective measures especially after they face severe dental decay or an accident. Such restorations are usually made with composite or porcelain materials and are applicable primarily for replacing missing teeth.
What is a dental bridge?
A dental bridge refers to an efficient solution when patients are experiencing partial tooth loss. In simple terms, it is a fixed prosthetic that replaces the teeth which are lost. 
Dental bridge treatment is done when the remaining teeth are strong enough to provide support to the new teeth. Furthermore, it also ensures that the teeth will stay in place. A patient must choose an affordable dental bridge treatment to ensure that it is within their budget.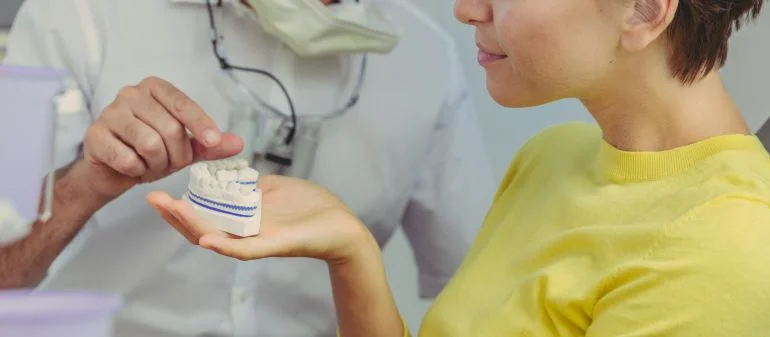 What is the procedure for Dental Bridges?
Dentists make a lot of effort and spend time preparing the mouth's area and affixing Dental Bridges once they come back from our dental labs. Then, fixed bridges are placed on nearby teeth to allow spanning of the actual site of a missing tooth. 
To fix the bridge with the help of ceramic teeth, dentist in Plano provide dental bridges to solve the purpose. It will replicate missing teeth and thereby restore both proper function and aesthetics. Finally, patients say that dental bridges are the best possible ways to restore their pleasant smiles.
Reasons for choosing Dental Bridges
Dental bridges must be chosen based on the treatment that your teeth require along with whether the procedure is right for you or not. Some people also go for easily removable dentures. 
However, dentures have the disadvantage of falling or can become loose. Dental bridges in Plano are a more comfortable and secure solution. It also avoids any problems with smiling, eating, and other day-to-day activities.
Some of the reasons why you must get dental bridge treatment are:
Helps in preserving the shape of your face

Refraining the remaining strong teeth from the pressure

Restoring the beautiful smile on your face

Capability to eat and speak properly

Contact our experienced dentists today.
Discuss your case with us and learn how we can help you replace your lost teeth through Plano Dental Bridges. To get answers to all your queries, you can call us at (972) 801-2788  or schedule a free consultation.
Dental Bridges FAQs
1. Is Dental Bridge an uncomfortable treatment for my lost teeth?
Dr. Steve Jang makes every effort to treat the patients with care and comfort. To avoid causing you any pain, anesthesia is given that will make the treatment painless. However, the use of anesthesia is done only when the dental bridge is being secured in place.
2. How long does dental bridge treatment last?
The duration may last for a period of 5 to 15 years. However, the timeframe may differ for every patient owing to their daily activities and schedule. The bridge will last for more time if you keep your oral health in mind and follow all the safety precautions suggested by the dentist. They will suggest you best measures on how to prevent any decay, infections, and other tooth problems.
3. Will my teeth look natural after dental bridges?
Yes, your teeth will look natural as the dentist will take every measure to see that your teeth are in perfect shape and structure. They take measurements and then fix the prosthetic according to your shape so that it looks natural.