Overview Of Emergency Dentistry
The Emergency Dental Service gives out of hours' dental consideration if there should arise an occurrence of an emergency. This isn't a stroll in administration, however carefully by arrangement as it were. The qualified dental attendant in Plano counsel patients via telephone. They evaluate whether the patient requires an emergency arrangement or further help and exhortation.
Crises are more often than not:
Crises are more often than not: injury (dental wounds brought about by falls/mishaps) Sleeping (after extraction), swollen countenances.
The administration offers various restricted medicines to address the patient's needs. We don't give routine dental consideration.
Pinnacle Dental ought to have the learning to recognize and deal with a conceivably dangerous circumstance. Brief acknowledgment and productive emergency dental clinic have outcomes with an attractive result. Even though uncommon, crises do happen in a dental facility.
A definitive objective in the administration of all crises is the safeguarding of life. The prime essential in dealing with an emergency is the upkeep of legitimate Position (P), Airway (A), Breathing (B), Circulation (C), and Definitive treatment (D)
Any dental emergency, like damage to the teeth or gums, can be possibly genuine and ought not to be disregarded. Ignoring a dental issue can cause long-lasting harm. Just like the requirement for progressively extensive and costly treatment later on.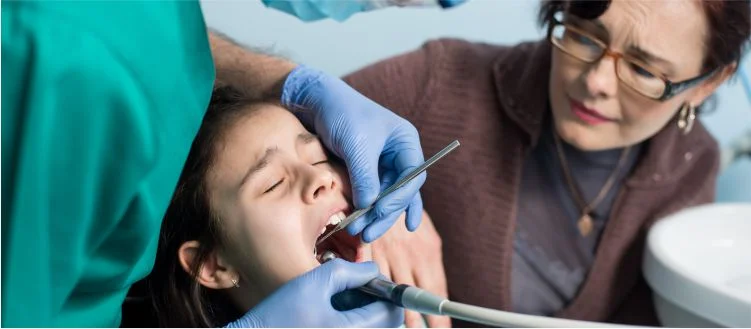 Here's a speedy synopsis of what to accomplish for some usual dental issues.
Toothaches Chipped or broken teeth

Thumped out tooth

Expelled (mostly unstuck) tooth Items got between teeth Lost filling. Lost crown

Broken braces and wires Free brackets and bands.

Delicate tissue wounds
Wounds to the delicate tissues, which incorporate the tongue, cheeks, gums, and lips, can bring about death.
To control the seeping, this is what you need to do:
Flush your mouth with a gentle salt-water arrangement. Utilize a soaked bit of cloth or tea pack to apply weight to the draining site. Hold set up for 15 to 20 minutes. To both control draining and soothe torment, hold a virus pack to the outside of the mouth or cheek in the influenced territory for 5 to 10 minutes.
In case draining doesn't stop, see your dental specialist immediately or go to an Emergency Dental Office. Search Emergency Dental Clinic near me, locate us and call us without any hesitation.
You need to hold a virus pack to the outside of the mouth. This is only for a certain period of time to control draining and soothe torment. In case the draining does not stop, visit a dental specialist immediately. You can also go to a medical clinic emergency room as soon as possible.
Keep on applying weight on the draining site with the dressing until you can be seen and treated. It is critical to grasp what kinds of wounds require emergency dental consideration. So, you should make sure your family's teeth are addressed adequately while keeping faraway from extra outings to the emergency room.
Mishaps can occur consistently of the day or night. Some oral wounds may require quick treatment, while others can hold up until your dental specialist's typical business hours.
When you endure an Emergency Dentistry, you can necessarily call our emergency dental center for an arrangement. Postponing treatment or disregarding oral torment can prompt more tooth harm. So, it's essential to call us once you begin to feel agony or inconvenience.
Some common mouth wounds incorporate split, broken, or thumped out teeth. These issues can be an aftereffect of gnawing on a bit of nourishment that is excessively hard, a games related damage, a fall, or some other kind of mishap.

Contingent about the seriousness of the damage and where the tooth is found, it is conceivable that a chipped tooth or minor crack can sit tight for a call to the dental specialist amid typical business hours.
We attend our emergency patients immediately. And our dental care team can regularly give same-day dental services with ease. Book your appointment for getting emergency dental care at Pinnacle Dental.