Cosmetic Dentistry is an ideal option for maintaining a perfectly healthy and sparkling smile. Our professionals use the best products and advanced technology while performing cosmetic dental operations to provide patients with a comfortable experience. We provide treatments like dental filling, veneers, composite bonding, teeth whitening, traditional braces, and Invisalign.
Pinnacle Dental helps people maintain the health and beauty of their teeth with the best Frisco Cosmetic Dentistry. We give the complete attention patients require for their treatment.
What Are Frisco Cosmetic Dentistry Options That You Can Have?
Maintaining a healthy schedule at home can keep your teeth structure healthy. You should brush twice a day, rinse your teeth after every meal and use floss after brushing. Apart from this, it is always advised by the dental specialists that you should visit the dentist at regular intervals to have a check on the upcoming dental issues.
Pinnacle Dental helps you in keeping your teeth healthy and also attractive with the help of cosmetic dentistry in Frisco, TX. There are a varied number of cosmetic dentistry options available at the clinic now.
Various Cosmetic Dentistry Procedure For Perfect Teeth:
Maintaining a perfectly healthy and sparkling smile with a perfect set of teeth takes a lot of effort. It includes various processes of Cosmetic Dentistry in Frisco to  achieve this perfection.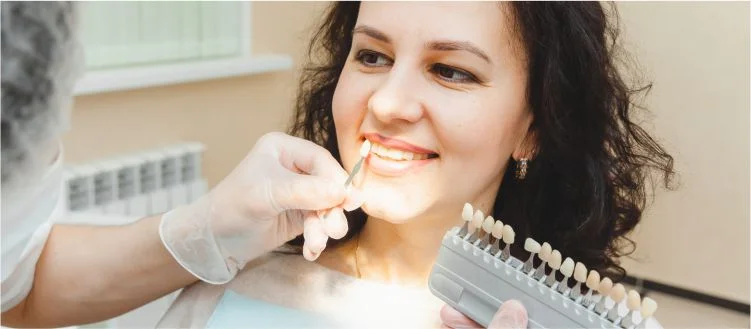 One of the most common options that you have is the dental filling. When you have a cavity in your tooth that is creating the problem in your regular lifestyle, it becomes important to block that cavity. Materials such as resin and others are used to fill in the cavity so that the tooth structure can stay strong and also further cavities can be avoided.
People who have a habit of smoking or drinking alcohol and others may suffer from yellow or discolored teeth. This problem again can be sorted out by a cosmetic dentist  with the help of teeth whitening method.
Kids may have an irregular set of teeth because of which they may feel shy at smiling. With the help of braces, the teeth structure can be corrected so that the person can have a proper life ahead, full of confidence. 
At Pinnacle Dental, the experts make use of Invisalign to correct the teeth structure. Invisalign are better than braces because they are translucent in looks and hence they are less visible from distance. Also, they are not as painful as the metal braces.
Apart from these various options of Frisco Cosmetic Dentistry are there; such as veneers, composite bonding, and many others that the experts of Frisco Dentist offer.

Schedule an appointment with the best cosmetic dentist:
Get in touch with a specialized cosmetic dentist in Frisco at Pinnacle Dental. Our experts perform all cosmetic dentistry procedures with the best quality product and cutting-edge technology to provide patients with a seamless  and comfortable feel.