Dental care is not just about maintaining a sparkling smile. It is a crucial aspect of overall health that deserves careful consideration. Choosing the right dentist can make all the difference in your comfort, treatment quality, and overall experience.
Nothing is better than asking your queries when finding a dentist that aligns with your preferences and requirements. Here are some questions that you should be asking when evaluating potential dentists. These questions will empower you to make an informed decision, ensuring that your dental care is in capable hands.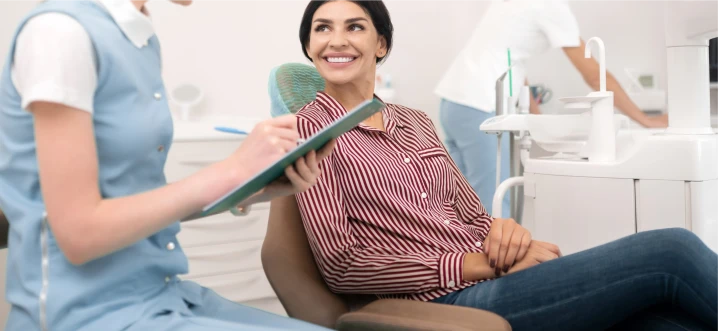 What To Ask While Choosing A New Dentist and Why?
When choosing a new dentist, asking the right questions ensures you receive the best dental care in the future –
1. What is your area of expertise?
Tell me about the specific areas of dentistry you focus on. What procedures have you performed frequently?
Reason: Understanding a dentist's specialization and experience in specific procedures is crucial. You want a skilled and experienced dentist for the treatments you may require. A dentist who frequently performs a procedure is likely to deliver better outcomes and a smoother experience.
2.  Are there any treatments you don't provide?
Do you offer a wide range of dental services, or are there some treatments you don't handle?
Reason: Knowing the range of services a dentist offers helps you assess whether they can meet your diverse dental needs. If a dentist does not provide the dental care procedures you need, you can plan accordingly and seek specialists if necessary.
3. Is your schedule busy? Reason:
Do you have many patients? How might that affect my appointments and waiting times?
Reason: A dentist's patient traffic affects appointment availability and waiting times. Understanding their schedule helps you estimate whether they can secure your appointments conveniently.
4. Will I see the same dentist every time?
Can I expect a consistent dentist for my visits, or is there a system where different dentists see patients?
Reason: Having a consistent dentist fosters a strong patient-doctor relationship. This familiarity can enhance communication, comfort, and tailored treatment plans.
5. How often should I come in for check-ups?
What is the recommended schedule for regular dental check-ups, and what happens during these appointments?
Reason: Understanding the recommended check-up frequency helps you prioritize preventive care. Regular dentist visits are crucial for catching issues early and maintaining optimal oral health.
6. What is involved in a typical check-up?
Can you explain what procedures and examinations are done during a regular check-up?
Reason: Learning about the procedures involved in a check-up helps you prepare mentally and physically. It also gives you an idea of the thoroughness of their examinations.
7. How frequently do you take X-rays?
Do you often use X-rays in your practice, and how often might I need them? 
Reason: X-rays are crucial for diagnosing dental issues. Learning how often they are used ensures you know about potential exposure and understand the dentist's commitment to thorough examinations.
8. Do you have satisfied patients who can vouch for your care?
Can you provide references from patients who have had positive experiences with your practice? 
Reason: Positive references provide insight into a dentist's quality of care, chairside manner, and patient satisfaction. It offers a glimpse into the patient experience you can expect.
9. What if I have a dental emergency?
What is your plan for an urgent dental issue outside a regular appointment?
Reason: Emergencies can arise unexpectedly. Understanding a dentist's emergency protocol helps you feel secure knowing how they handle urgent situations other than regular appointments.
10. Do you accept my insurance?
Does your office work with my insurance plan, and will you help with the insurance claims process? Or will I need to handle that independently?
Reason: Knowing if your insurance for dental implants and other procedures is accepted and whether the dentist assists with the claims process affects your financial planning. It helps you estimate costs and avoid surprises.Each question discussed above addresses aspects of dental care, from expertise to insurance, ensuring you make the right choice that aligns with your needs and preferences. 
Elevate Your Dental Care Experience with Pinnacle Dental Expertise
Discover a new level of dental care excellence. Your journey to a healthier, more beautiful smile begins with a visit to the colony dentist at Pinnacle Dental. Our commitment to your oral health is unwavering, offering a range of services from routine cleanings to advanced cosmetic and restorative procedures. Contact us today to Request an Appointment and take charge of your oral health.