The short answer is—yes. Some insurance plans do cover portions of dental implants. However, it's essential to understand the type of treatment you need and what your plan will pay for before moving forward.
Pinnacle Dental accepts dental insurance plans for dental implant treatment. We provide cost effective amount plans and financing along with accepting all major insurance such as all the PPO insurance plans.  In case you don't have any dental insurance, don't worry, join our VIP membership to get the best treatment at an affordable price.
Things to Know Before Choosing Insurance For Dental implants:
Dental Insurance for implants needs to be clarified for many people as some insurance cover implants and some don't. It might be disappointing that basic dental insurance does not cover Dental Implants as they come under cosmetic dentistry. It's because Cosmetic Dentistry is not a part of dental insurance. 
Using the basic Dental insurance plan, you can cover the payment of one single tooth or a few teeth in a row. 

You can manage to get only a few

tooth

implants covered by insurance. 

You can choose Dental insurance with a higher premium amount that covers implants. 

Sometimes medical insurance can act as dental insurance that covers implants. But medical insurance only covers the root portion, not the crown or bridges. 

Medical insurance covers implants only if there is a medical need, like a person losing teeth due to oral cancer or other medical complications. 
These are some essential things you must know before choosing dental insurance. Not every insurance covers dental implant treatment completely, so ensure to analyze them before picking any.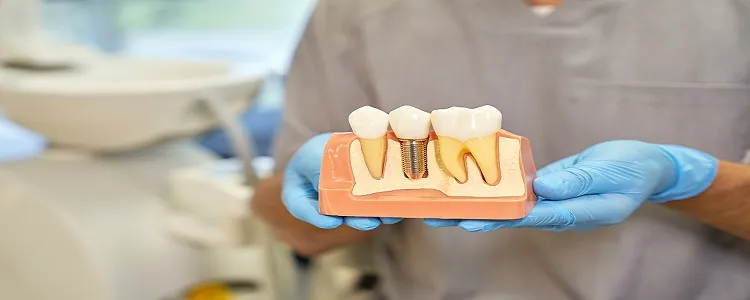 Scope of Dental Insurance Covering Implants:
Scope of insurance plans covering implants can vary. Tooth extraction, Bone Grafting, placing the implant, and placing the artificial tooth may or may not be covered under the insurance.  
Many insurances cover the tooth extraction stage of implantation entirely if the injured tooth is still there.  
Although it is a vital stage in the dental implant process, this treatment portion could not be covered. This process is crucial to ensure the safety and stability of implants in patients who need jawbone strengthened before the implants. 
It is the most crucial stage of missing teeth in terms of expenses that dental insurance covers. Several insurance plans cover their significant portion for this stage. 
Placing the Artificial Tooth: 
It is also a significant procedure or stage for placing an artificial tooth as it mimics the appearance and functioning of a regular tooth. Still, some insurance plans take it as getting a crown to stop tooth decay. One must see whether the insurance plan would pay more of the expense.
Therefore, to understand whether insurance covers Dental Implants, you must know these stages of missing tooth treatment.
Tips for Choosing the Right Dental Insurance for Implants:
Here are some tips that you should follow to get proper dental insurance.
Choose the right plan with a short waiting period. There are many providers with a 12-month waiting period. If you are willing to get an implant immediately, you should choose no waiting period insurance.

Research and understand the provider's policy regarding the deductible. 

Try learning about the plan's annual coverage limit. Then, know how much your provider will give you for the implants.

Remember the amount you will pay from your pocket after a particular procedure. This amount is calculated based on the percentage. 
These tips will help you get the right insurance for your implants surgery.
Contact Dr. Jang To Know More About Dental Insurance At Pinnacle:
Insurance plans can cover a few dental treatments but only partially. Dental implants are very costly, and it is necessary to get insurance that can cover them. To learn detailed information about various dental insurances we accept, click here patient resources. You can follow all the tips above to get dental insurance for implants. You can get treatment from our expert Emergency Dentist in Plano in case of any urgent dental care.
Frequently Asked Questions