See Our Patients Resources For Better Understanding
At Pinnacle Dental, we want to make your dental visits as painless as possible. We offer affordable payment plans and financing, accept all major insurance, and provide online access to patient forms for faster check-in. Read on to learn more about in-network plans, apply for financing, or download forms, and feel free to call our office at 972-801-2788 with any questions you may have. We look forward to seeing you at your next visit.
Insurance Plans
Pinnacle Dental accepts all PPO plans. We are in-network for the following plans:
Aetna
Assurant
Blue Cross/Blue Shield
Ameritas
Cigna
Connection
Delta
Lincoln Financial
Guardian
Humana
Met Life
Principal Financial
Unicare
United Concordia
United Health Care
Dearborn Dental
No Insurance. No Problem
You don't have to have dental insurance to get affordable treatment at Pinnacle Dental. Call us at 972-801-2788 to ask about our in-house discount plan.
Payment Plans
Pinnacle Dental can arrange a payment plan or dental financing to meet your needs. We accept cash, checks and all major credit cards.
Dental Financing
As a service to our patients, we are pleased to offer dental financing through the CareCredit® card, the nation's leading patient payment program, as well as the Citi® Health Card. You'll find more information on each program below. To apply for either program, simply download, print and complete the appropriate application using the links provided, and bring it with you to your next dental appointment. Citi Health Card Application or CareCredit Application Citi® Health Card Dental Financing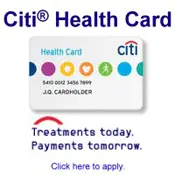 The Citi Health Care Card is an easy way for patients to pay for dental procedures that are not fully covered by insurance. Offered by Citibank, a well-known financial institution backed by established funding, the Citi Health Card provides access to flexible payment plans with low monthly payments, no pre-payment penalty, and no annual fee. Patients can pay for all or part of their balance using the card, and it can also used to pay for treatments for additional family members. Approved patients can view, manage and pay their Citibank accounts online.
Flexible payment plans
Flexible Payment Plans on qualified purchases and revolving credit option at participating providers
Low monthly payments and no pre-payment penalties
No down payment required
Separate account for health care expenses keeps other credit available for personal use
Click Here To Apply for a Citi® Health Card –
CareCredit® Dental Financing
It's fast, easy and simple, and there is no application fee.
p style="text-align: justify;">With CareCredit, you can finance 100% of your dental care with no upfront costs, annual fees, or pre-payment penalties, allowing you to begin your treatment today and conveniently pay with low monthly payments. CareCredit offers a full range of payment plans, so you can find one that works best for you. With the popular No Interest Payment Plans, * there are no interest charges if you pay your balance in full within the specified time period. Monthly payments can be as low as 3% of your balance. For procedure fees from $1,000 and up, CareCredit offers 24-, 36-, or 48-month plan options with low monthly payments. CareCredit can be used by the whole family for ongoing treatments without the need to reapply — and by using CareCredit for your dental care, you can save your other credit cards for household or unplanned expenses.
Click Here To Apply for CareCredit® or see our staff for more details
Patient Forms
Have an upcoming dental visit? Download our patient forms here and complete them ahead of time, for faster check-in.