Dental Clinic In Carrollton TX For Excellent Dental Care
Our face represents us whenever we meet someone. It may be a casual meeting with friends and family or a formal meeting at the office. Whatever be the case, our smile leaves a significant impact on others.
Good oral health is essential to wear a confident smile on our faces. Taking care of oral health resembles many factors, such as clean teeth, gums, tongue, and other facial tissues that construct our mouth.
Mostly we think that brushing our teeth is enough to take care of it. But we seldom forget to take proper care of our oral health. This may lead to problems such as bad odor, discoloration of teeth, bleeding gums, etc. One must undergo regular oral checkups with highly experienced dentists in Carrollton, TX to avoid such situations.
Tips To Keep Your Oral Health At Check
Dental care is one of the critical essentials of all of us. Be it a child, youth, or a golden person everyone must take dental health seriously. Pinnacle Dental also has the best emergency dentist in Carrollton, TX, who has rich experience in treating severe dental issues with ease. 
Our dental care team is highly skilled and professional. Being well equipped with modern machinery and tools, our carrollton dental clinic serves patients with advanced oral solutions.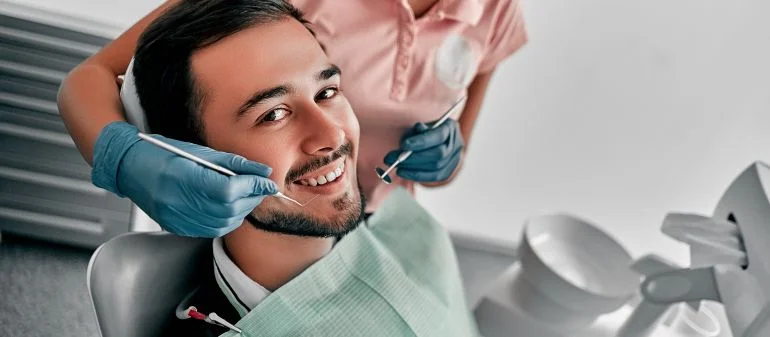 Brush and Floss at least two times a day

Brushing twice a day is best.

Drink plenty of water.

Don't consume too much of sugary foods.

Get sufficient calcium and Vitamin D regularly.

Visit A Dentist at least once in every 6 Months!
You can follow the above mentioned tips to keep your teeth healthy and strong.
Dental Solutions At Carrollton, TX
Pinnacle Dental offers various services for complete oral care. You can get state-of-the-art treatment such as general dentistry, specialty dentistry, cosmetic dentistry, and family dentistry in carrollton. If you are looking for the best Dentist 75007 location, then visit Pinnacle Dental for a complete solution.
Here is a list of dental treatment offered by Pinnacle Dental Clinic:
Cosmetic Dentistry-

Pinnacle dental offers cosmetic dentistry solutions that help to restore the aesthetics of the face. Other procedures practiced by Dentists are teeth whitening, dental implants, teeth bonding, etc.

Dental Crown and Bridges

– Tooth loss can claim low self-esteem in younger people. Accidents can happen any time, if we end up in breaking our tooth, we should approach dental care experts. Dental crowns and bridges help to rectify such issues related to tooth loss, decay, or broken tooth.

Dental Implants

– Pinnacle Dental offers new-age treatment for dental implants that involve modern implant solution and surgical procedure. Get the best and latest treatment at Pinnacle.

Family Dentistry

– Pinnacle Dental also offers complete family dentistry. The clinic facilitates the patients by accepting various health insurance and numerous payment options.

Invisalign

– It is the modern-day braces that help to put your teeth and gum settle in their original position. With an experienced dentist, Pinnacle offers a complete Invisalign solution for its patients with convenience.

Root canal

– Many patients had to undergo root canal treatment for various dental problems. At Pinnacle Dental, you can expect expert treatment with well-equipped infrastructure and thus experience satisfactory results.

Sedation Dentistry

– Oral treatments can be a nightmare for a few. But with a dentist at Pinnacle Dental, experience the painless dental procedure. With new-age dentistry, the patients are given sedatives during diagnosis or actual treatment to keep them calm and relaxed.

Emergency Dentistry

– can be a new term to many, but dental problems can also become life-threatening like other health issues. Pinnacle Dental has introduced an Emergency Dentist to help people in emergencies.
Be it a regular checkup or a full smile makeover, our experienced dentist in carrollton TX and professionals are at your service.

Trust Our Highly Experienced Dentist In Carrollton, TX
Pinnacle Dental has renowned dentists who have rich industry experience and are experts in dental care. Dr. Steve Jang and Dr. Ahn are the pioneers of dentistry in TX. With vast experience and knowledge, our carrollton family dental have served many patients and have provided satisfactory treatment. We offer a procedure that is modern and uniquely tailored for an individual patient.
If you want to check the market reputation of Pinnacle Dental and the dentists:
Check the soaring list of clients. You can also read their feedback to understand the satisfaction, which self-proclaims success.

Be it a regular oral check up, smile makeover, or an emergency dental service, always look for the best source.

Visit our clinic for complete dental care solutions.
We offer treatments that are modern and uniquely tailored for an individual patient.

Make an appointment now to get the best dental care:
Get in touch with the best dentists at Pinnacle Dental and experience the best dental care. Contact us anytime to book an appointment to get a cure for any of your dental problems.