Dental veneers are the key to countless picture-perfect Hollywood-like smiles and the treatment for many typical dental flaws. Dental veneers are often the key if you have ever wondered how your favorite celebrities and influencers keep their teeth looking flawless. 
These thin, precisely crafted porcelain or composite resin shells have revolutionized cosmetic dentistry by providing a minimally invasive yet extremely effective treatment for teeth flaws. 
Discover the challenging procedure for getting dental veneers if considering veneers to conceal your dental flaws.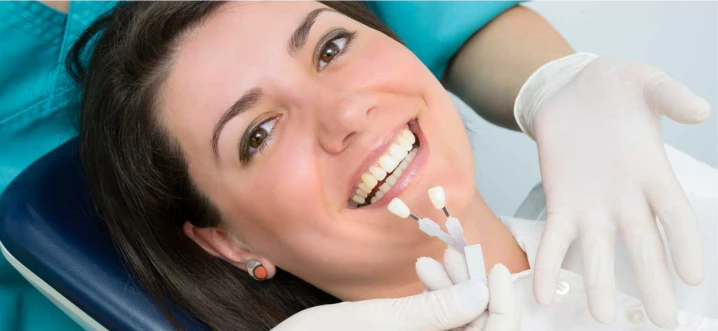 Step-By-Step Dental Veneers Procedure
–
Getting a smile makeover with dental veneers often includes three key steps. Here is the step-by-step breakdown of this procedure –
Veneers Consultation and Treatment Planning
The process of dental veneers starts with a consultation when you and your dentist will talk about your objectives. Your dentist will evaluate your dental health throughout this phase to see if veneers are a good option. They will look at your teeth, take X-rays, and talk to you about your cosmetic worries. 
You and your dentist will work together to develop a unique treatment plan, deciding on the amount of veneers required and the best materials (often porcelain or composite resin).
Tooth Preparation for Veneers
Your dentist removes a little bit of enamel from the front of the teeth that will get veneers to prepare them for restorations. This process makes sure the veneers will fit correctly and look natural. 
To create personalized veneers at a dental laboratory, impressions of the trimmed teeth are obtained. Temporary veneers may be applied to retain your look and safeguard your teeth.
Bonding Veneers on the Tooth
When your custom veneers are made, you will have another appointment with your dentist for the finishing touches. Your teeth are fitted with veneers to ensure they look good and fit well. After properly cleaning your teeth, dental glue is used to attach the veneers to the back of your teeth. 
The veneers are then precisely placed over your teeth. A curing light makes the glue harder, resulting in a solid bond. The last modifications are made to ensure your bite and look are perfect. The outcome is a stunning, enduring grin that boosts self-confidence and attractiveness.
The process of getting dental veneers could vary slightly based on certain circumstances, your oral health, and the type (porcelain veneers or composite veneers) used. 
Say Goodbye to Flaws and Transform Your Smile with Veneers
–
Dental imperfections can affect your confidence. If you are ready to transform your smile and improve your overall appearance, Pinnacle Dental is here to help with expert dentistry services. 
Schedule your consultation at our Plano dental office and embrace your flawless smile.