An experienced Dentist in Dallas will Solve Your Dental Problems
Are you suffering from any kind of oral issues? Dental problems are common nowadays, and affect people of all ages. A dentist will provide you with a perfect solution for every dental ailment because we have the best dentist in Dallas, Texas.
How Dallas Dentist's Patient-First Approach Help In Dental Health
One of the major and significant differences between our emergency dentist in East Dallas, and others is our highly patient-centric approach to dental treatment. 
During your initial consultation, a dentist will examine you personally. This will be helpful to work out your goals and expectations. And to thoroughly re-evaluate the specifics of your dental health and your most viable treatment options.

Our advanced technology, including highly-detailed digital X-rays, allows us to make immediate images. This allows us to better assist you with your dental health and treatment.
In What Facet You Can Need The Assistance Of Dr. Steve Jang
Teeth can be lost as an aftereffect of numerous elements: gum illness, tooth rot, or because of a mishap. In this case, Dr. Steve's assistance is necessary because he is the Best Dentist in Dallas TX, who can resolve all your dental issues. If you have any tooth-related query or problem, you need to take the assistance of dentist.
Understanding that some people deal with dental anxiety, Dr. Steve Jang desires to create a bond of trust and open communication with each and every patient. He listens without judgment, seeks to know the patient's needs, and encourages support throughout the visit.
Invisalign for Zig-Zag Teeth
If you have teeth not adequately shaped or your teeth are in zigzag shape, then Dental Office in Dallas, TX brings you the nascent technology to get your teeth perfect. Dr. Steve is doing Invisalign, a well-known technique to get your teeth in excellent shape and enhance your beautiful smile. 
In this process, aligners are made of your teeth size just to move them little by little. As a renowned Emergency Dentist in Dallas, he is a maestro in solving all types of dental illness.
Sedation Dentistry for Scared patients
For those that have a phobia getting their teeth treated by a dental professional is providing Sedation Dentistry. Sedation is the administering of a sedative drug to produce a state of calm or sleep. In sedation dentistry, a patient is almost unconscious and helps the dentist access the teeth and gums easily.

How do dental professionals care for their teeth?
The focus of a Pinnacle dental is to supply outstanding customer services altogether with the very best quality dentistry, enabling us to revive and maintain each patient's oral health and hygiene. Then, if the patient wishes to enhance their smile, we'll know that it has been done on a healthy basis and can last longer for the simplest return on their cosmetic investment.

Emergency Dentist in East Dallas suggest these tips look after their teeth:
Brush a minimum of twice a day. The simplest time to brush teeth is after meals only. Choose a toothbrush with a little head for better access to back teeth. Soft bristles are kinder on your gums.

Use fluoridated toothpaste: Fluoride helps to harden enamel and reduces your risk of decay.

Brush thoroughly. The dentist's professionals usually take between two and three minutes.

Floss your teeth daily: They use a slow and delicate sawing motion for the same.

Limit acidic drinks like soft drinks, cordials, and fruit juices: as we know, Food acids soften tooth material and dissolve the minerals in enamel, causing holes (cavities or caries). In severe cases, teeth could also be 'eaten' right down to the gum.

Limit sugary food: Bacteria in bacterial plaque change sugars into acids. Hence, they avoid taking that.
Protect your teeth from injury: They always wear a mouthguard or full-face helmet when playing sports.
How to select your dentist in Dallas?
Finding the right Dentist in East Dallas, TX is not easy! Pinnacle Dental team believes in continuing education for both our staff and our patients. So, we provide a good range of care services for each member of the family, including preventive care, children's dentistry, and implant placement and restoration, among many others.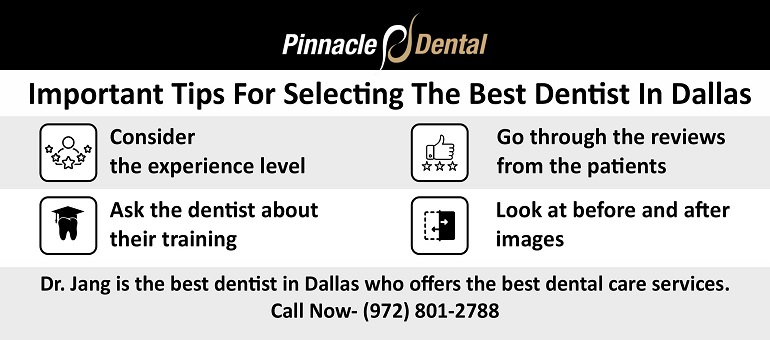 If you are searching for an experienced dentist, following these tricks and tips can ease your finding an efficient dentist in Dallas.
Consider the experience level:

 Dentists

who  have gone through advanced training in implant placement might not perform these procedures as often. Oral surgeons regularly complete advanced surgical procedures like dental implants and have a greater understanding of the potential risk factors and the way to reply Hence, you need to check their experience level for the same. AVOID BEGINNERS IS ALL WE CAN SAY!
Go through the reviews from the patients:

 The best thing to consider before hiring any of the dentists could also be to travel straight to their fellow patients. Undoubtedly, Online reviews are an excellent initiative. Find reviews from patients who have received dental implants from the dentist clinic/ hospital you're curious about visiting or even considering visiting.
Ask the dentist about their training:

 Ask your dentist about their training details. Dentists have advanced training as a part of their education. Hence, it's essential to make sure your doctor has completed the required training to supply the possible results.
Look at before and after images:

 Most dentists keep before and after images of their dental patients to supply samples of the results they will offer. Ask your dentist or oral surgeon to ascertain samples of their past work. This may offer you an honest idea of what you'll expect from your own implant placement and restoration.
Visit For The Best Emergency Dentist in Dallas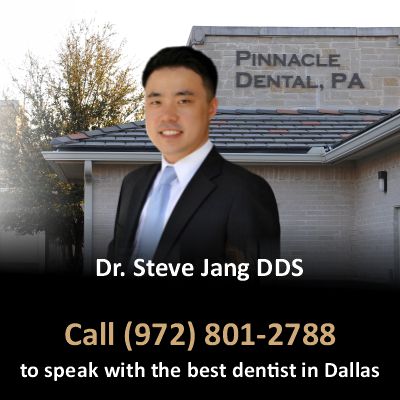 North Dallas dentists have in-depth expertise, advanced training experience, and aesthetic skills to investigate and build a smile unambiguously designed and ideally suited to your face. The result will be a stunning, contagious smile you wish everybody to see!
Our employees, hygienists, and assistants are rigorously chosen not just for their skilled skills, however, additionally for his or her ability to place patients first and easy- going. Before your visit, learn additional about what our patients say regarding our dentists, staff, and workplace by scheduling a free consultation.