Gone are those days when people with missing teeth had the only option of using bridges and dentures. We are living in an advanced world, and so we have a better yet more convenient option. Dental Implants are an excellent substitute for a natural tooth.
Millions of people in the United States and the rest of the world suffer tooth loss. There can be many reasons for losing a tooth. It can be an injury, tooth decay, or any periodontal disease. The most common reason is tooth decay.
Today, most of the people with missing teeth prefer to have a dental implant because of its immense number of benefits. Do you know about dental implants and their benefits? In this piece of blog, we will discuss the benefits of dental implants that make it a preferable choice for many.
What are Dental Implants?
They are replacement tooth roots and are anchored in the jaw bone. It provides a strong base for fixing a tooth (permanent or removable) in place of the missing tooth. The replacement tooth is made according to the color of your natural teeth. Hence, it gives the same look and feels, just like the natural teeth.
When you visit an experienced dentist for a dental implant, he/she will first do a thorough check-up to know your oral health. Dental health history will also be taken into consideration.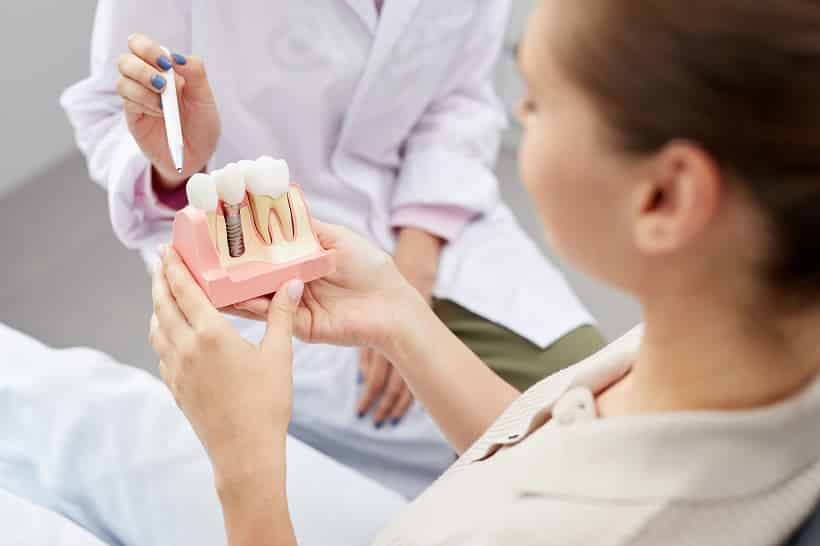 Based on various other factors, they will suggest a suitable type of dental implant.
Four Types of Dental Implants that a dentist can offer you-
Two-stage dental implant.
Endosseous/ Endosteal Dental Implants.
Single-Stage Dental Implants.
Subperiosteal Dental Implants.
Be it any Dental Implant, all of them are worth it.
Benefits of Dental Implants that make it a popular choice
Natural look, feel, and functionality;
This one of the best advantages of getting dental implants. The tooth is made to match the color and texture of your natural tooth. Apart from its aesthetic value, it has many benefits that many people are not aware of. When it comes to functionality, you will not feel any difference as it will be the perfect fit and will help you chew your food with ease.
You can confidently smile, laugh, and eat without fear because no one else can identify your implants.
Better bone and facial features-
We all know that improperly shaped and placed teeth can affect our facial features. Dental implants do wonders because they preserve the natural tooth issue. So, we can avoid the bridgework. When there is no cutting down of conventional teeth, bone and facial features become better.
The bone resorption and deterioration are decreased to a great extent, preventing the loss of jawbone height. It also restores the structure of our jawbone.
High Success rate-
The success and survival rate of dental implants are considered better than any other teeth replacement option. But, as we said, follow your dentist's instructions to keep them in good condition. Reputed dentists use the latest technology and techniques to treat their patients, so their success rate is also high.
Enjoy eating your food without any discomfort-
As it is anchored, just like our natural teeth, you can easily chew your food as you do with your natural teeth. Healthy and proper eating habits will, in turn, keep your overall health in good condition. So, you can avoid many health issues. Dental Implants are very safe for our oral health.
Durable and Reliable-
The implants will last for longer than your expectations. The only thing you need to care about is; maintain your dental implants as instructed by your dentist. Maintaining good oral hygiene plays a vital role in making them durable.
Apart from this, you will also experience improved self-esteem and speaking comfort. The high success rate and plenty of benefits makes Pinnacle Dental a preferable choice. So, if you have a missing tooth, you can get it done without any hesitation. Just visit an experienced dental implant professional and get your initial check-up done.