Most people want to have a great smile. Healthy and clean teeth add to a sharp appearance that others like. You can attain this by caring for your teeth. Despite taking good care of the teeth, you may face some issues like tooth decay, bad breath, mouth sores, gum disease, tooth erosion, tooth sensitivity, etc., which can be taken care of by an experienced Emergency Dentist in Plano.
The dentist is the medical practitioner who treats people who have issues with their teeth.
Some of the services provided by a dentist are as follows:
Regular check-ups for maintaining good health.
Treat and repair the cavities and broken or damaged teeth that the dentist suggests.
Fix your teeth so they don't worsen.
Make dental bridges for patients to restore their bite and hence facial beauty.
Have a root canal treatment in case the cavity is infecting the roots of the teeth.
Receive or surgery in case if necessary. There are a few reasons why a dentist might suggest it. Please discuss this with him.
Dental implants are helping people who lost teeth to improve eating and overall appearance.
Get emergency dental care to treat cracked teeth, a broken jaw, tongue or lip damage, etc.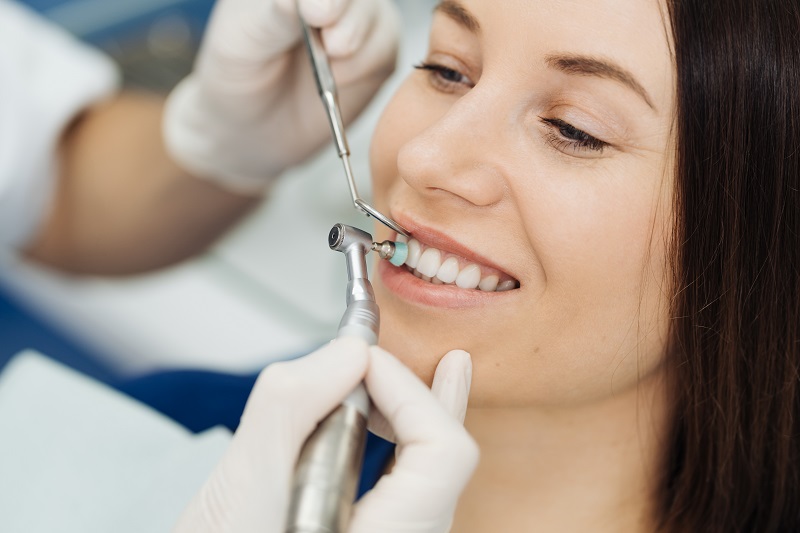 Overview of dental caries prevention. Girl at the dentist chair during a dental scaling procedure. Healthy Smile.
Implants and its usefulness Several dental services were provided to people for many years, and nowadays, implants are becoming popular. Swedish Orthopedic surgeon, Per-Ingvar
Brånemark, created them in 1952. A dental implant is an effective method in which surgical fixture is placed into the jawbone. It then gets merged to the bone. It includes complete and partial dentures, fixed, i.e., cemented dental bridge, Dental implant, etc.
Why are they useful?
Due to affordability, dentures seem commonly used by many people. But along with that, one has to compromise with the inconvenience of maintenance, taste, and food, sometimes. Dental bridges are a better option than dentures, but the dependency on the existing neighboring natural teeth makes a big point. Since implants are independent of other teeth and get supported by bone, they are preferred.
Some of the factors which have to be considered while opting for implants are:
Location of the missing tooth/teeth
The health of the patient
Jawbone health condition where the implant has to be placed
Cost of the treatment
Patient's preference for the type of the treatment Procedure of Implant
After a thorough examination of the patient's oral health condition and discussion, a detailed, comfortable treatment plan is prepared. A team of trained professionals is formed according to the need, and then a tooth root implant, a post made of titanium, is placed in the socket of the missing tooth. Around 6-12 weeks is taken for the jaw to heal.
After the implant fuses to the jawbone, a small connector post is attached to the post to hold the new tooth securely. For the new tooth, an impression of the teeth is taken with the help of a model. The patient's bite is used to make the crown. According to the color of the existing tooth, the new tooth color is decided.
Don't fear to take local anesthesia for a dental treatment:
Local anesthesia is used during the procedure; hence it is less painful. It numbs the area. The implants are permanently fixed to the jaw hence, can be maintained as real teeth. Brushing, flossing, rinsing with an antibacterial mouthwash and regular check-ups can be performed to maintain oral hygiene.
There are many reasons one can opt for dental implants:
Improved speech, with the removal of cracked teeth or poor-fitting dentures can cause problems with tongue biting or dentures sliding. With implants, they can be free of all these worries.
Sliding teeth makes one unable to eat so many favorite foods. With implants, they can eat with ease without sliding dentures.
Improved appearance, since the implanted tooth is permanent, you can feel they are part of your body.
Implants are very comfortable and hence durable compared to dentures.
Very easy to maintain therefore oral hygiene is improved.
Dentures have to be removed regularly for maintenance, whereas these implants are fixed which makes it convenient.
Sometimes implants in the form of mini-implants are put in the mouth to assist orthodontic procedures, where the movement of the tooth gets done. After the procedure and healing process, this temporary implant gets removed.
Here's what you can expect from us:
We provide complete, fast, and convenient treatment according to your comfort at a reasonable cost.
We have a dedicated, well-trained team of professionals to treat you.
We provide you with the best treatment with all the detailed explanations of the procedure.
We have 3D CAT scanning technology and a specialized on-site dental implant lab that helps to understand the patient's anatomy, and explain the course of treatment.
The incorporation of Computer-Aided Design-Computer Aided Manufacturing (CAD-CAM) technology — and computer software for 3D rendering and virtual surgery planning has brought implant dentistry to a new level of predictability.
Hence, more precise and accurate implants, faster healing, less invasive, and less bone invasive, adding to quicker recovery time. Along with medical, you can expect technical, educational, and emotional support. We also provide a financial and clinical clarification team to help assist the patients.
Now is a good time for you to think and decide about your dental health. You can get treated by the Best Dentist to get a beautiful smile throughout and comfortability while eating. Book your appointment with dentist for best dental care Now.